| Shockers Homepage | Roster | Schedule & Results |
| Team Stats Leaders | Tourney Summaries |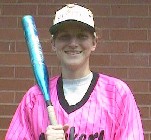 Katy Ray
---
Academic Data
I will be graduating from Andrean High School in June of 1998. I have a 3.0 GPA on a 4.0 scale and scored 1260 on the SAT test. I am a member of the Cardinal Flahiff Chapter of National Honor Society. I have taken the following honors and AP classes:
Algebra II
Physics
Geometry
Biology
Calculus AB
In addition I have also taken three years of Latin.
During my senior year, I am working as a student athletic trainer and taking an Introduction to Sports Medicine class. Andrean's full time Certified Athletic Trainer teaches the class and supervises the student trainers. I am considering Athletic Training or Physical Therapy as a college major.
Extra Curricular Activities
I have an avid interest in music. I play the flute, piccolo, and percussion. My freshman year I played with a small group for school masses. During my Sophomore and Junior years I was a full time member of the band. Junior year we started a marching band and I was also in that. In association with the Drama Department, I have participated in the orchestra for Godspell, Bye, Bye, Birdie, and Joseph. In IHSMA I have received two first places and a second place in first division last year.
In addition to my musical activities at school I have traveled to Toronto, Canada with the Great Lakes Ambassadors band camp to perform there. I also participated in the All- Region band in my eighth grade year.
All Andrean students are required to perform community service. In addition to other community service, I have worked as a volunteer at the Happiday Resale Shop, in Chicago Heights, IL. This shop raises money for mentally retarded children and adults.
Work
I have earned money by baby sitting and doing odd jobs for neighbors and family. In 1996 I became a licensed National Softball Association Youth Umpire. I have umpired in a variety of league settings and tournaments. The highlight of my umpiring career was working an age 16 and under NSA National Qualifier the summer of 1997.
Athletic Achievements
Freshman Year
Freshman Volleyball
Freshman Basketball (finished year on JV)
JV/Varsity Softball - Varsity Letter
Sophomore Year
JV Basketball (finished year on varsity)
Varsity Softball

Caught every inning of every game
Varsity Letter
Most Improved Player Award
Junior Year
Varsity Basketball

Varsity Letter
Best Mental Attitude Award

Varsity Softball

Varsity Letter
Big D Defensive Award
Team's Co-MVP
Honorable Mention Times All-Area Team
Regional Sports Radio All-Academic Team
Softball Notes
I am a catcher. I love being involved with every pitch of the game and having the responsibility of guiding the pitchers through tough times. I can also play both third and first base.
I have been playing softball since age six. Summer softball career highlights include:
ASA Regionals 1992 (12U)
NSA World Series 1994 (14U)
NSA World Series 1996 (16U)
NSA World Series 1997 (18U) - Shockers finished fifth
References
Frank Podkul
Varsity Softball Coach
Athletic Director
Andrean High School
5959 Broadway
Merrillville, IN
(219) 887-5281

Glenn Eisfelder
Former Mgr Schererville Sparks
Manager Excel 16U Travel Team
Coach Lake Central HS Softball Team
E-Mail: glenn554@aol.com

Patricia Roye
Mgr. Griffith Shockers 18U Travel Team
E-Mail: proye@aol.com

Susan Marovich
Athletic Trainer
Andrean High School
5959 Broadway
Merrillville, IN
(219) 887-5281

You can write Katy at krray@pla-net.net
| Shockers Homepage | Roster | Schedule & Results |
| Team Stats Leaders | Tourney Summaries |

This page accessed

times by softball fans like you!
---

Sign or read our Guestbook
E-Mail the team at shockersoftball@tripod.net
E-Mail to Manager Pat Roye
Published Friday, June 20, 1997
Revised Tuesday, July 15, 1997